In the last few years, Adobe Systems has gone about the process of making available some tools relating to image manipulation, design, photography, and various graphical tools available on the web. All of course as an introduction to the Adobe suite products for those who want to advance skills in this area. One such site is the kuler.adobe.com as a companion site to some features available in the Adobe suite.

Kuler is it community-based website set up by Adobe to facilitate colour selection and design.   The site is a Flash-based, so if you haven't updated your Flash plug-in in your browser, then this is indeed unworkable.   The other thing that you will need is an Adobe login.   Of course, there is the option to register at the Kuler site.   Many of the features available through this site around the available to logged in members.   It is a community-based site from the perspective that you can look up the profiles of web designers and graphic designers who utilise Kuler as part of their design process.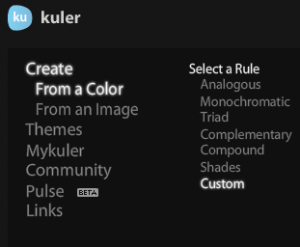 It is explicitly a tool to facilitate the range of colour combinations and as such allows you to put together colour swatches in groups of five colours. By default when you come to the site, it will display the more popular colour groups developed by the community of people that use it. But the predominant features of this site are not other people's swatch collections but the capacity to create your own.   Of course, that isn't to say that you can gain inspiration by reviewing the names and colour groups that are available from the community or reading the profiles of other designers.
There are options on this site to edit any swatch selection you can view or to create your own from scratch.   By clicking on the slider button on the right-hand side of the site, one can edit or adjust any particular colour theme or by clicking on the "create" button make your own.   Inside the page that pops up, you can select from a colour wheel guided by a not unfamiliar structure – if you are familiar with Illustrator or Photoshop – that provides you with analogous, monochromatic, Triad, complementary, compound, tinted shades, or a completely customisable option of colour selections from the RGB colour wheel.   There are some methods including sliders and controls in the colour wheel to provide you with the means to tweak your selection of colours.   There are also translations of RGB to CMYK and LAB colours as well as the RGB hex value of the colour provided in a table beneath each colour selection.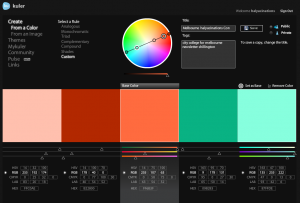 When you have decided on a colour selection, the website gives you the option to save the swatch panel is a publicly accessible group or a private group available only to yourself when you log in.   Your individual swatches are available when you click on the "MyKuler" link (which of course just appears if you are logged in).   All your privately saved swatches are available after that.   Any of the Swatch collections are downloadable to your computer by clicking on the download button to the right of the screen.   The Swatch group is saved as a proprietary format file known as an Adobe Exchange file which has the extension ASE.   And ASE file can be loaded as a separate swatch straight into Adobe illustrator or in-design.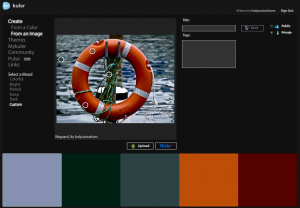 Of course, if you are having difficulty in selecting colours via the rules selection then there is a facility for selecting them straight off an image.   Select "create" from the initial screen and choose "from an image" instead of the default "from a colour".   At this point you can select to upload a picture, you want to analyse, or you can choose from an image from Flickr.   Their tags provided by the Flickr photographic community can be used to select Flickr images.   A dialog box provides you with search facilities from the Flickr database to narrow your search to specific images.   Once your image is uploaded or selected, it is displayed in Kuler along with five movable selection circles whose centre point will add whatever colour it hovers over to your font colour selection swatch.   Again these can be saved as public or private swatch groups.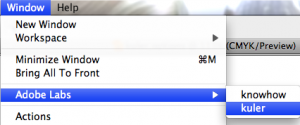 Once saved, of course, any of these swatches of downloadable.   If these images are kept in the public domain, then they are accessible straight from Illustrator. Since Adobe Illustrator CS3, access to the Kuler website has been built straight into the application.  By clicking on the Windows drop-down menu inside of Illustrator, there is an option "Adobe Labs" which has a flyout option named "kuler".   It will make a direct link to the Kuler site and enable you to search for Swatch groups by the creator, tag or theme.   Instead of loading an Adobe exchange file previously downloaded from the Kuler site via the flyout menu from the Swatch palette ( under "open swatch library" / "other library"); you can save your swatch directly from the "Adobe Labs" / "kuler" dialog box.   The result under either method is a Swatch group in your Illustrator swatches panel that you can name and convert to CMYK or spot colours via the live colour panel.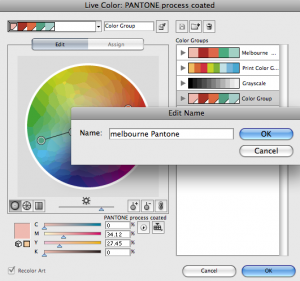 By double-clicking on the folder icon to the left of your new Swatch group you trigger the live colour panel dialog box.   Within this, you can change your RGB colour group to CMYK, LAB, or SPOT colour approximations by clicking on the icon underneath the colour wheel to the right-hand side that looks like a small grid that will limit your colour group to colours in a specified swatch library.   Adobe illustrator as inbuilt a number of the colour book Pantone libraries from which you can convert your RGB colours to the closest Pantone colour representation.   Having selected your colour library from the fly-out menu, you can choose to save the new colour group by clicking on the icon to the top right of your dialog box which appears as a small folder with a plus sign (+) at the top right-hand corner.   When you click on okay, your colour swatch library will contain a new group of colours specific to a particular colour library such as, "Color Book" / "Pantone process coated".
The colour swatch groups of any in design document can, of course, be exported by the flyer menu folders swatches panel by selecting "open swatch library as ASE", which of course can be taken straight into another Illustrator document or an in-design document.
In In-design ASE files can be imported via the fly-out menu of its swatches palette wherein lies the command "Load swatches".   The whole process of selecting colours appropriate to a design can begin at Kuler via a rules-based approach or from an image of your choice.   From there the exchange file can be downloaded and imported into Illustrator.   By utilising the "live Color panel," the swatch can be converted into the colour library of your choice and then re-exported into an Adobe exchange file.   From there it can be imported into in-design and colour swatches applicable for print be they CMYK, or Pantone can be applied to your design.
As a tool for understanding and selecting colours for projects it can assist your creative process despite the fact that Americans still can't spell "color" or "kuler" or   …. damn … however, it is spelt.
N.B.: The Adobe Kuler facility has since been renamed since this article was initially written but the links and advice are still applicable.
Save
Save