Nostalgia – as a longing for something past – is often marketed to older demographics.  For young trendsetters, it is to regenerate a market for goods customarily considered past their used by dates. The fascination with retro items and vintage collections has an appeal to younger generations who, – while having no personal memory – have been inspired by the films and stories of the previous generations. The appeal of 2nd hand retro bric-a-brac places is to find chattels that re-set trends in the urban environment among a generation without personal awareness of its history. I came across a Casio Databank calculator watch in a speciality store that I recalled from my childhood and bought it. In an age of smartwatches, it drew considerable attention from friends and still does.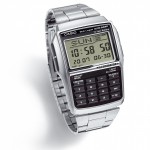 Casio emerged after the Second World War as a technology company, producing calculators, adding machines, musical keyboard instruments and wristwatches. Their wristwatches were even combined with their calculators long before the concept of today's smartwatches. It was in the mid-1980's that Casio created watches that performed calculator functions and stored appointments, names, addresses and phone numbers. These watches were considered synonymous with the spirit and aesthetics of the 1980s.
When asked some years back to generate a press advertisement for Casio's range of Ricochet and Backlash watches the idea was to appeal to the spirit and aesthetics of that time. Being provided with images of other retro items synonymous with that time I was asked to create an advertisement depicting this new watch leaping onto the scene from the retrospective era from which it had emerged.
Working through the associations with the past, I felt a need to have it punch through the eras to stand out in the modern aesthetics for the nostalgic "geek chic" community.  They who love live performances, drinking and eating in eclectic bars and clubs, listening to electronic music, rock and roll dancing and yet still wanting to be trendsetters in retro fashion.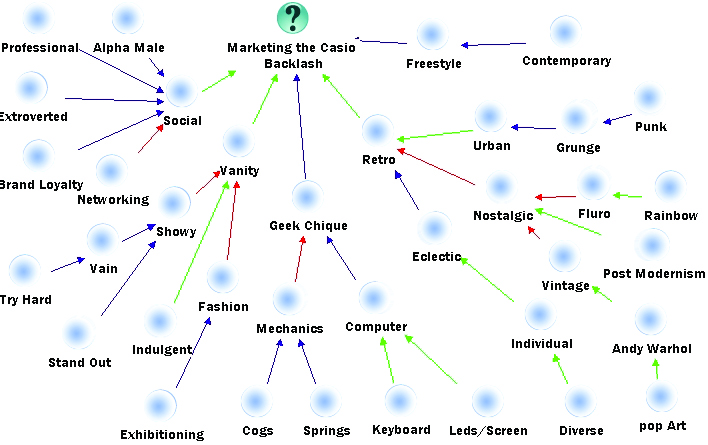 The mood board I created was full of retro bric-a-brac, cogs, calculators, phones and such imagery.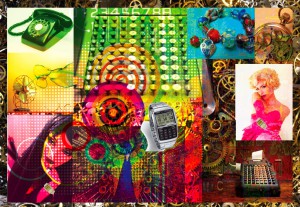 The advertisement images for this retro watches needed to punch it's way through the glass ceiling to present itself to the consumer from the shadows of the past replete with nostalgic images of what typified the era from which it emerged. An advertisement with marketing appeal to the hidden geek chic that a older generation recalls and a younger generation finds retrospective appeal in.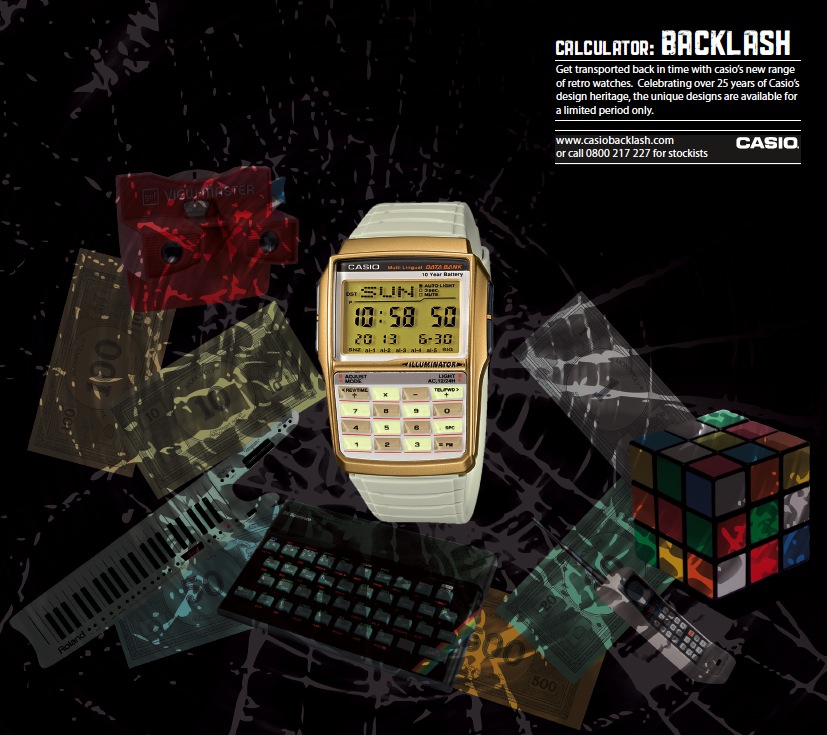 N.B. This is not a current campaign.
Save
Save
Save
Save
Save